Portfolio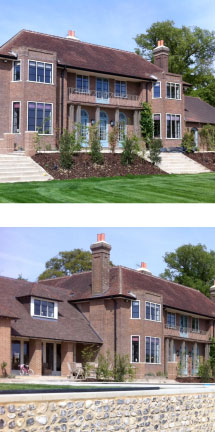 Private Client
Project: Extension and Refurbishment of existing house. Including hard landscaping, new access road and an outdoor swimming pool.
Location: Beaconsfield
Scope of Work: Works involved the demolition and removal of the existing swimming pool. This was replaced with the construction of new basement and a two storey extension, which linked the existing house with existing garage block which itself was re-modelled to create additional car parking, storage and staff accomodation. The exisiting house was stripped back to a bear shell and extensively refurbished to create new bedrooms, bathrooms,and a panelled feature staircase. Throughout the house new bespoke hand painted joinery was fitted to all bedrooms, some bathrooms, the library and study. At the start of the project asbestos was found throughout the house which had to be dealt with this included sealing the entire building and then the subsequnet specialist removal of the asbestos fibres.. Externally new metal casement double glazed windows and doors were fitted in timber subframes to replicate those in the original house. The roof tiles were stripped and the roof insulation upgraded the house was retiled. A new access road was constructed to provide a larger lawn and soft landscape area. A new outdoor swimming pool was constructed, with retaining walls and additional hard landscaping linking the pool to the house.
Contract Value: £1.80m
Contract Period: 14 months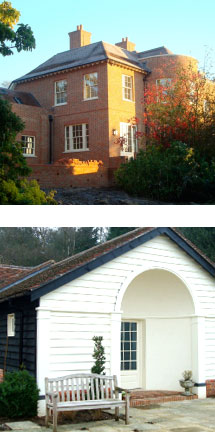 Private Client
Project: Construction of substantial new dwelling with ancillary buildings including a garage block, plant room, staff accommodation, outdoor swimming pool and changing rooms.
Location: Burnham
Scope of Work: This project involved the demolition of the existing house and construction of new two storey dwelling with small basement, ancillary accomodation with bathrooms in the roof of the main house, internal lift. Garage courtyard complex with staff accomodation and an outdoor swimming pool. The existing access road was extended and externally hard landscaping was carried out including the construction of feature pond and retaining walls. The building itself was constructed using traditional load bearing masonry, with concrete intermediate floor, attic trussed roof, hardwood sash windows. Internally many of the rooms were panelled,feature oak staircase, cinema room and wine cellar were house in the new basement.
Contract Value: £2.90m
Contract Period: 18 months
Let's talk about your project. Call or email us, without obligation, to discuss your goals and aspirations and/or limitations.